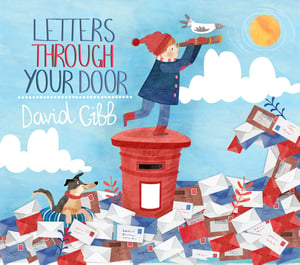 £

10.00 - On Sale
Click HERE to preview the album.
Tracklisting:
1. From A to B
2. There's a Dragon in My Bedroom
3. He's a Navvy
4. Sailing 123
5. The Dog Doesn't Listen to Me
6. Drop Peter Drop
7. Landlocked
8. Hush Little Baby
9. Monkey See Monkey Dream
10. Free Sailing
11. Letters Through Your Door
12. A Few Years Older
13. Wiggle Your Way Towards Me
Award winning song writer and story teller releases album for children and parents alike! David Gibb is a young award winning song writer, story teller and tallest man in Derbyshire on a mission to create great music for children and families. At just 23 years old he's already had his music played on BBC Radios 1, 2, 3, 4 and 6, performed at Glastonbury Festival (amongst many others), played over 400 concerts, been nominated for a BBC Radio 2 Folk Award as part of the duo 'David Gibb & Elly Lucas', and won the highly commended prize at the Young Story Teller of the Year competition (2011).
Frustrated at the lack of high quality music available for children, and inspired by the strong independent children's music movement in America, he set himself the mission of writing an album of songs aimed at families, with quality and musicianship being the focus. The result is 'Letters Through Your Door', a fun and exciting album and stage show packed full of catchy and toe tapping numbers.
The album features original songs as well drawing on traditional children's song from across the world. This sublime mix is complemented by guest appearances from some of the biggest names on the British folk scene including Bella Hardy, Will Pound, Nancy Kerr, Jez Lowe and Lucy Ward. The themes range from the everyday to the surreal, but whether it's finding a dragon in your bedroom, dreaming about swimming in the sea, or simply waiting for the postman to arrive, there's something here for everyone!